Clinic Location & Prices
Where we are located
Our clinic is located in London Waterloo within the Vista diagnostic centre, a 30 second walk opposite London Waterloo station exit 2.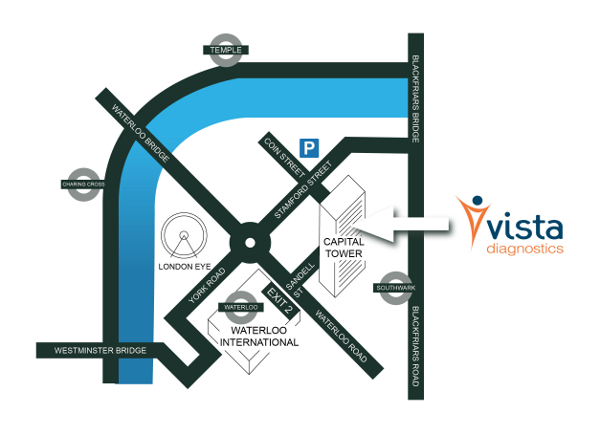 Directions
We are located opposite exit 2 of Waterloo Mainline Station. Exit down the escalators of Waterloo Mainline Station on to Waterloo road. Capital Tower is the large glass fronted building directly opposite you. Between the Wellington pub and the Waterloo Business Centre. Please enter the building through the revolving doors or step access doors to the side and present to reception where they will provide you with an access pass to the 1st floor.
Arriving by overland or underground train: Follow signs to Waterloo Mainline Station and leave the station via Exit 2.
Arriving by bus: Disembark at Waterloo station and locate Waterloo Road.
Arriving by car: NCP parking is available nearby at 22 Coin Street, SE1 9NR.
Wheelchair and stroller access: There is easy access into the building with no stairs. There is lift access to the first floor.
Once in the Building please present to reception and ask for ChiroPeople on the first floor within Vista MRI, they will give you a security pass and direct you to the lifts. Take the lift to the first floor and present at the reception area, where they will ask you to take a seat.
Prices
High quality chiropractic care at affordable prices.
Initial consultation and first treatment £85
Chiropractic treatment £45
Re-examination and treatment £60
MRI referral £30
Concessionary rates -10%
Care packages are available at 6, 12 treatments to help people save money.
Private health insurance?
No problem ChiroPeople regularly works with all major health insurance companies so know exactly what is required to process your claim.
Opening hours:
Tuesday 7am-8pm
Wednesday 12-8pm
Thursday 7am-1pm
Friday 7am- 12pm